The Dream, The Dreamcast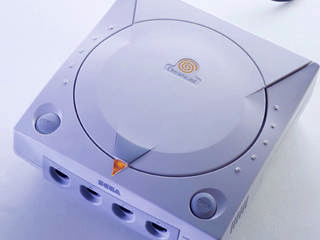 It's about time the magical Sega day arrived to erase depression of knowing my Saturn has been exterminated from existence of people's minds. I have been a loyal fan of Sega and their games from day one of the Genesis to, yes, even the Saturn. It's been hard to get the feel of Dreamcast knowledge for a Sega site, when you never played a Dreamcast or seen any of the games in action. This marks my 8th month working for Sega Zone and my 3rd day of experiencing the Dreamcast.

The Anticipation

When I heard that a new system was in the works, all I could think about is that my Saturn is limping on its last leg. I have seen systems come and go, but never in the dying fashion like the latest Sega systems. My Saturn received its last game Shining Force 3, and then it was all over. The revealing of this new-generation of Sega power has been seen on the month of May last year. We have heard many names this processing beast has been given, Katana, Dural, Sega 128. and more. It wasn't until this month that we have received this "cheesy" name of Dreamcast. The name was a mark of change for the Sega company. It was a "Dream" of change that Sega planned to "cast" for positive aspects on their future. The name grew on us and had many people believing in a dream of Dreamcast. From this announcement, anticipation grew stronger and stronger in the American market. Never a better day to release a new technological wonder than on such a memorable day like 9/9/99. I pre-ordered my Dreamcast on 4/26/99. I was one of the 300,000 other people to place an order for the Dreamcast.



The Day

The day arrived. All the extra over-time hours I put forth will soon come to worth at 10am of 9/9/99. I have 350.00 to blow, all which will see the light on Dreamcast equipment. I went to my local Toys R Us to actually not find myself waiting for the doors to open. ( I live in a very small community ) I did not see myself being occupied with other Dreamcast dreamers. This was something that I have not witnessed when the Saturn was released, as I did not see one Saturn sold on its launch day.but who knew about it? I actually witnessed at least 10-12 Dreamcasts sold that quick morning alone.to find later that there was only one left! I walked into the store, grabbed my ticket for a Dreamcast, Soul Calibur, Hydro Thunder, and NFL 2K. Took them to the counter after waiting about 30 minutes in a line. Paid my costs and received a free magazine and shirt, then drove home quickly to my beloved home and plugged it all up.

My Impressions

We should witness a new Sega. Everything has seemed to be a complete new perspective on this struggling company. The Dreamcast has everything better than that of the Saturn. A better box design, better look, better games, better price, better commercials, better sales, better programming. this list can go on and on and on and..well you get the idea. The system is sleek and well small. All this power comes out of this little box? Wow! The orange power light on the system just screams, "Power!" All the cables were easy to connect just like any other systems. I am truly impressed with what Sega has dug up here.and by the whopping 97 million in first day sales I can see that I am not the only one who believes so also. I had a great 9/9/99 and didn't even have to deal with any faulty disks. Now if I could only get some sleep and lose the eye strain.

Sega receives a 9.5/10 on its launch. Wasn't perfect due to bad disks and some delays, but much controlled and organized than any other launch of a gaming system. Great Job Sega!!!